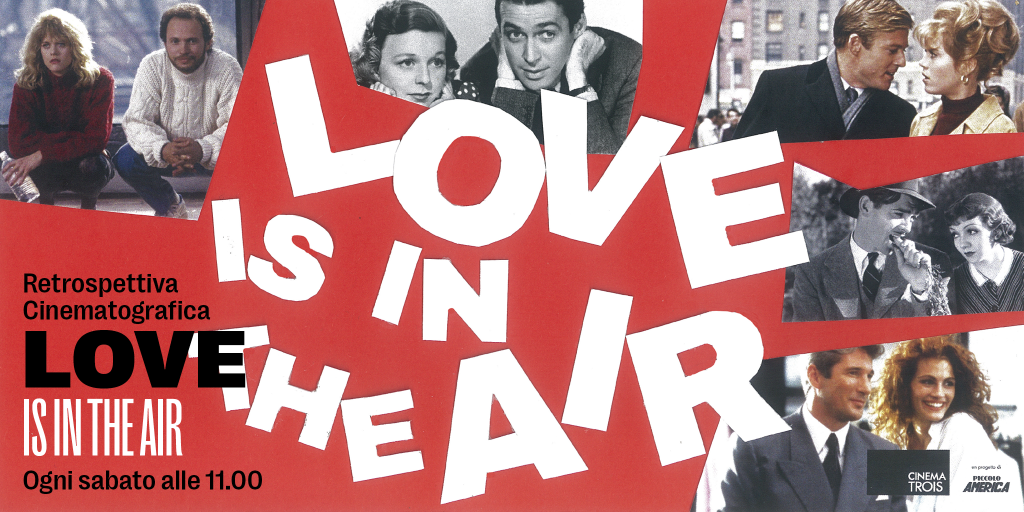 Spring has arrived in Rome, a fresh breeze blows at Cinema Troisi, and "Love Is In The Air" by John Paul Young echoes in the foyer… 🌸
Between a glass of bubbles and a strawberry, every Saturday morning we toast to love with eight comedies that have made cinema history, alternating iconic couples in black and white and in color: from Clark Gable and Claudette Colbert to Richard Gere and Julia Roberts!
Here's the full program of "Love Is In The Air", the new Saturday morning retrospective at 11.00:
08/04 – "It Happened One Night" by Frank Capra (1934)
15/04 – "Barefoot in the Park" by Gene Saks (1967)
22/04 – "The Philadelphia Story" by George Cukor (1940)
29/04 – "Pretty Woman" by Garry Marshall (1990)
06/05 – "The Shop Around the Corner" by Ernst Lubitsch (1940)
13/05 – "A New Leaf" by Elaine May (1971)
20/05 – "Roman Holiday" by William Wyler (1953)
27/05 – "When Harry Met Sally…" by Rob Reiner (1989)
All films are in the original language with Italian subtitles and the ticket costs €3.00.
For those who purchase the movie ticket, there's an aperitif with strawberries and bubbles at an additional cost of €5.00.
Info and tickets on www.cinematroisi.it or at the box office!