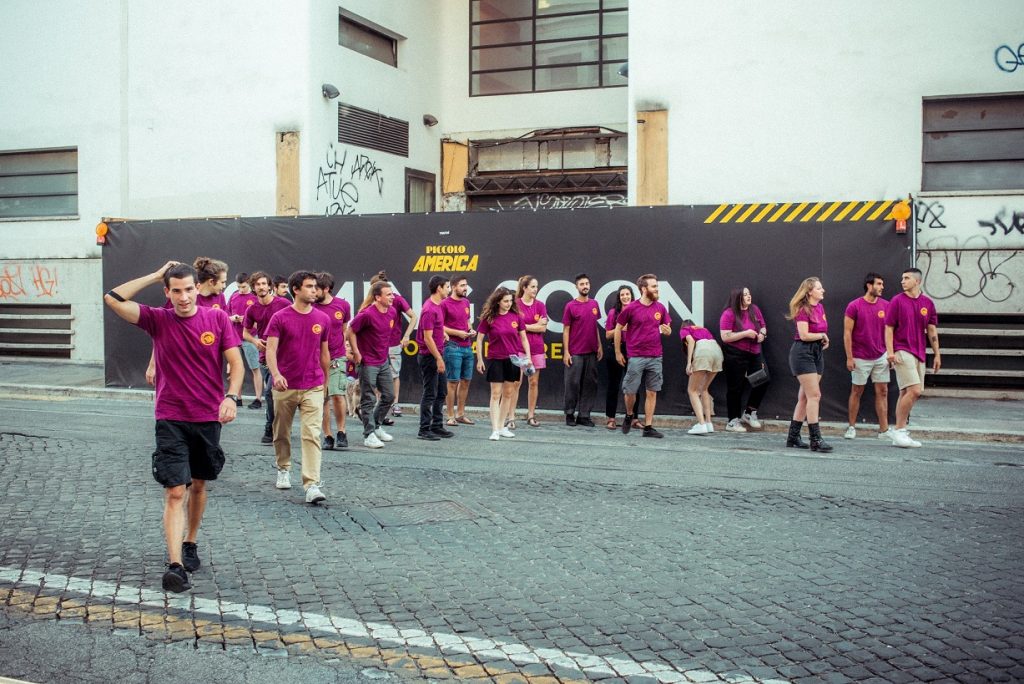 The Piccolo America Association was born in September 2014 from the experience of "Assemblea Giovani al Centro," a group of girls and boys from schools in the center of Rome, mainly from the outskirts, who since 2011 have been looking for spaces to give life to a cultural alternative to the consumption associated with nightlife and tourism. That first permanent assembly leads to the formation of the Cinema America occupiers collective, a heterogeneous group that gives life to the lively cultural experience of via Natale del Grande.
Today, however, the definition of association is too narrow for Piccolo America. The group is actually a much broader and more fluid entity: a collective composed of friends, but also a network that involves parents, grandparents, siblings, and friends who often participate in events and help with their ideas and skills, making the experience a real extended family that is activated according to needs.
Among the initiatives promoted in recent years, we recall the Schermi Pirata, which have brought the images of great films to the walls and monuments of the city, and Il Cinema in Piazza, which has involved much of the Italian and international film world, from Asghar Farhadi to Paul Schrader, from Jeremy Irons to Ken Loach, and then among others Stefania Sandrelli, Wim Wenders, Paweł Pawlikowski, Mathieu Kassovitz, JR, Roberto Benigni, Paolo Sorrentino, Matteo Garrone, Paolo Virzì, Francesca Archibugi, Paola Cortellesi, and Carlo Verdone, not forgetting the late masters Bernardo Bertolucci, Ennio Morricone, Gigi Proietti, Ettore Scola, and Francesco Rosi.
The spirit of more than ten years of activity has led to the reopening of Cinema Troisi in Trastevere, a cultural space open to everyone, with a state-of-the-art cinema hall, a study room open 365 days a year, 24 hours a day, a foyer-bar, and a beautiful terrace.
Defining Piccolo America is complicated for its own protagonists: that's why they prefer to be simply called the boys of Cinema America.